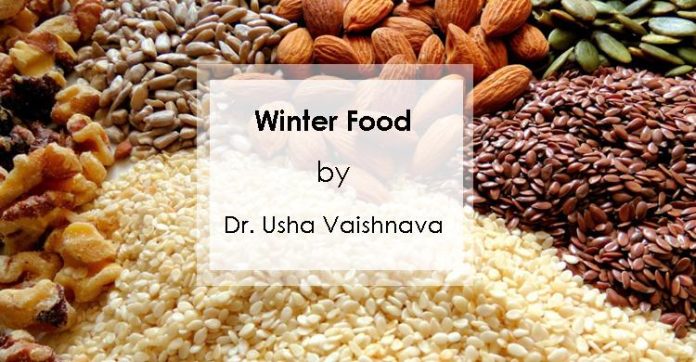 Weather is changing again, it is good time to refer Ayurveda & healing food to ensure our whacked out Doshas are balanced to fight against flu & cold. Ayurveda describes all individual different, one size doesn't fits all but there could be something that helps us (all) to keep ourselves motivated for long, dark & gloomy days and warm in bone chilling cold.
HMY Team : Winter is coming and also cold & flu, how can we tweak our daily meals that help us to keep ourselves healthy during winters?
Dr. Usha Vaishnava: It is the time of changing weather the food should be warm, light and satvic. In the diet one should avoid very cold food items. We can include some nuts and seeds in our diet.
HMY Team : Nuts are considered to be super food of winters. How can we include it in our meals? Is there a particular set of nuts prescribed for each Dosha?
Dr. Usha Vaishnava: Nuts are usually good source of proteins & essential oil. Essential oil keeps our body warm according to our prakriti.
Vata person can eat it more, pitta moderation & kapha less quantity. But 5 almonds every morning is good for everybody irrespective of Dosha.
HMY Team : What lifestyle habits should we avoid during winters?
Dr. Usha Vaishnava: In winter avoid cold bath, going in cold wind, taking cold food items like yogurt, salads, banana, ice creams etc.
HMY Team : Would you like to suggest to our readers any Ayurvedic medicines that boost our immune system?
Dr. Usha Vaishnava: Chyanprash is good for winters. Every morning one teaspoonful in cold season to keep the immune system strong & not to catch cold.
---
Dr. Usha Vaishnava, one of the leading Ayurvedic doctor, Panchkarma specialist, founder & chief consultant of Ayurveda Nirvana, Rishikesh. With her set up Ayurveda Nirvana at Rishikesh, she tries to cure people with mental & physical discomfort.
Connect Dr. Usha Vaishnava at ayurvedanirvana@gmail.com