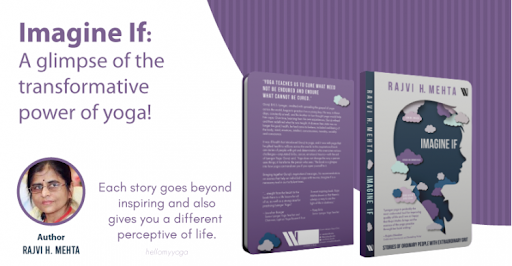 Imagine If is the accumulation of real-life stories of people who persevered through various adversities- physical and emotional traumas- but never lost hope and found the strength to survive and thrive, because of Iyengar Yoga.

Each story goes beyond inspiring and also gives you a different perspective of life. You will find yourself captivated by these astounding tales of people who are nothing special— but who has an indomitable spirit and an unquenchable passion to live—and it will all keep you glued to every page right until the end.

The portrayal of stories is succinct, yet clear in their representation of strong emotion. The author has been truthful about how she felt upon meeting these Superhumans for the first time and what her opinion was once she got to know them better, especially in regards to Shirly from Tel Aviv.

As someone who was trained and privileged enough to work closely with Guruji Sri BKS Iyengar, for few decades, it was natural that Rajvi's writing would reveal the deep reverence and devotion she felt towards this man -who has inspired many to practice Yoga and propagate it among people around the world. With great enthusiasm, she shares her lessons learned as well as those many insights into life that were gained through a lifelong journey with him.

This reference guide details all of the essential Asanas or Yoga postures necessary for beginning and experienced yogis alike. Beginners and advanced practitioners can rely on the practical asanas found in the back of this book to help deal with trauma symptoms like stress, anxiety, PTSD, insomnia or anger. They bring about clarity and emotional stability.

Rajvi H Mehta's Imagine If left me speechless with an overwhelming sense of inspiration I felt inside my chest – a feeling that was only amplified with each page I turned! We don't think there's anyone who wouldn't benefit from reading this book.
Rajvi H. Mehta is a reproductive biologist by training and profession. She is also a senior Iyengar Yoga teacher and has studied directly under Guruji Sri B.K.S. Iyengar, and Smt Geetaji and Sri Prashantji Iyengar for many decades.